Empty Leg Flights
Reduce the Cost of Private Flights with Empty Legs in Denver, CO
Charter a private flight to/from Denver for a price that isn't a Mile High.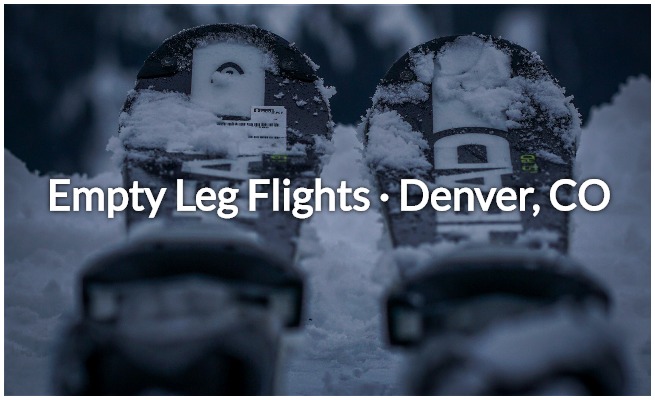 Private Jets Colorado offers access to empty leg deals in Denver, as well as Aspen, Eagle, Colorado Springs, and across the entire Centennial State!
Colorado is home to several busy private jet markets, most notably Denver and Aspen, the top two private flight destinations in the state. Eagle sees a good amount of private jet traffic as well, thanks to it's proximity to renowned ski resorts in Vail and Breckenridge.
As flights are booked across Colorado and the United States, empty leg flights become available—these deals allow flexible jet travelers to save up to 50 percent or more on the cost of private air travel!
Call our team or email us to request a quote. Our company offers access every charter aircraft throughout Colorado and across the country. Whether you're looking for empty legs to Aspen, or deadheads from Denver, you can find an amazing deal with Private Jets Colorado.
How does an Empty Leg get created?
When flights are scheduled to fly without any passengers, these are referred to as empty leg flights. They're created whenever a plane needs to move to another airport, return home from a trip, and other factors. The most common way an empty leg is created is via one-way flights.
The cost of the return leg is often included in the charter cost. Since the fuel and operations of the flight is already paid for, charter operators will market the route at a heavily discounted rate, although the discount depends on the popularity of the route—empty legs from Denver to LA are discounted far less than from Denver to Wichita, KS.
These saving can be pretty substantial. As an example, a $25,000 flight to Atlanta could suddenly turn into a $15,000 flight, with $10,000 left in your pocket. However, these deals are limited in time, access, availability. Deals are created and booked daily, calling an operators only grants you access to planes in their fleet, and it's impossible to see every plane available as the market changes. Even if you find some online, they're often falsely advertised just to get you to click, or they'll want to turn a profit rather than save you money.
Find an Empty Leg in Denver, CO
What is the best way to find an empty leg deal without being able to view every transient jet and turboprop in Colorado? Call us anytime, anywhere at Private Jets Colorado! We'll find the best deal on an empty leg flight to/from Denver, Aspen, Eagle, or anywhere in the Centennial State!
We utilize systems that allow our brokers to search all of the charter planes available for your flight, locating transients jets and props along your route, and offering them at incredible rates. Charter a private jet from Centennial Airport (APA). Book a one-way flight to Aspen–Pitkin County Airport (ASE) at a fractional of the cost, Save on private charter flights to Eagle County Regional Airport (EGE), and use the savings for a private helicopter charter to Vail!
From business jets to LA and luxury flights to Las Vegas, to amazing prices on short flights across Colorado or to Wyoming, Utah, and anywhere along the Rockies—let us find you an empty leg in Denver, CO.
Request an Empty Leg Quote
Get the best deals in private aviation no matter where you're flying to or from. Our services are available 24/7, and our quotes are free, so don't miss your chance to save BIG on your next private flight! Contact us and request a quote for an empty leg to/from Denver or anywhere in the state of Colorado!